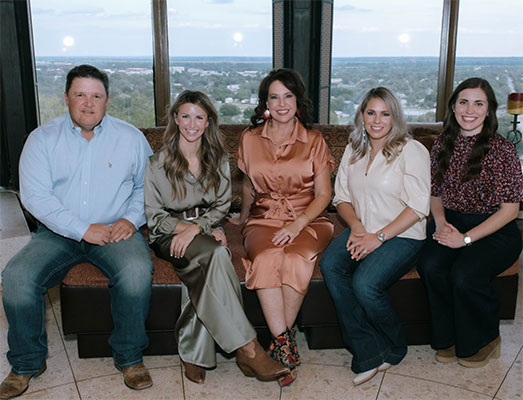 Real Estate the West Texan Way! Remember growing up when a firm handshake, head nod and smile was how you sealed the deals…that's the West Texan philosophy I believe in and strive daily to offer to every client I meet. Integrity, honesty, hard work, respect and follow thru are daily principles I live by, not just in my commitment to you in real estate but in everything I do.
A native to West Texas, I grew up in Coleman, Texas. In 1998, I graduated from Texas Tech University with a BS in Agricultural Communications and continued to achieve my Masters in Ag Education with a lifetime teaching certificate. Prior to finding my passion for real estate, I worked as a Marketing Representative for John Deere, the Director of Sales & Marketing for Midland Convention & Visitors Bureau and had an award-winning career as a Pharmaceutical Sales Representative for Forest Pharmaceuticals. I returned to Midland, Texas in 2012 and soon joined The Victoria Printz Team Realtors in July 2013. My real estate career began as a Licensed Contract to Closing Specialist under broker Victoria Printz, Midland's Career Leader in Home Sales since 1998. I was also allowed to work as an agent on her team as well during that time. After two years and hundreds of transactions under Victoria's tenure, I moved into a full-time Agent role working with buyers and sellers. Since getting my license in Oct. 2013, I have closed over 354 transactions and sold $103,105,633.00 in real estate thru December 2022. July 2019 I obtained my broker's license and beginning of September I fulfilled my dream of owning my own brokerage: SuJo McKee Real Estate! In 2022 I moved back to my hometown, Coleman, Tx, to be close to family and build my forever home. In the up and coming downtown of Coleman, I fulfilled my new dream of opening a brokerage office in my hometown. If you are ever walking down Commercial Ave, stop by the office! While I am primarily located in Coleman, I make frequent trips to the Permian Basin to work with clients.
I love to work in various areas: Farm and Ranch, Commercial, and Residential properties all over West and Central Texas. The markets I actively work in are Midland, Odessa (the Permian Basin), Coleman, Brownwood, Abilene, and the surrounding counties. In my spare time, I serve as Tournament Director for golf tournaments in the spring and summer and enjoy time in the country with my family.
Over the past few years, I have added a few Licensed Agents to my team: Emily Merritt, Dwin Nanny and Alex Kubacak. They all bring many wonderful talents and a wealth of knowledge to our team. Their excitement and passion are inspired by helping others achieve their dream of owning a home. You can read more about them on our Team Members page.
Whether you are in the market to buy or sell property, I'm your gal! I invite you to use this site to search for your next Single-Family Home, Condominium, Townhome, Farm and Ranch land, or Commercial real estate purchases.
To locate the property of your dreams, click the Property Search button. Also, I invite you to create your own FREE account, so that you may save listings that you might be interested in viewing.

Thank you for visiting! I look forward to hearing from you soon and offering you that well-deserved West Texan Real Estate experience!
Texas Real Estate Commission Consumer Protection Notice
Texas Real Estate Commission Information About Brokerage Services